Here is the diagram of the output shaft & seal;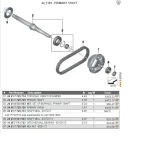 Diagram #5 is the seal that leaks, with the new, updated (non-leaking?) new seal, part number 24 218 541 803.
More than $30? For something that they should have known better about and installed from the factory? Right.
Use the stated dimensions that follow the part number,
40 x 72 x 7.6 mm
, and match it up at a bearing house in VITON for half the money, in an essentially indestructible material.
Typical neoprene (cloroprene) seals are good to about 250 degrees F, Viton (flourocarbon type A) is good to
400 degrees F
. With all the clutch slippage heat, the OEM seals WILL FAIL. Viton seals are a one-and-done fix.
You'll know if they are Viton by the color, which is brown...unless it is a counterfeit OEM Chinese seal...