Just sharing observations on replacing the chain rail for the 2013 GT I bought several weeks ago ....
With 15,000 miles on the bike, I figured I had chain rail #1 in place. That's the windshield-wiper shaped piece inside the swingarm that adds tension to the chain. As the chain gets looser over time, adding a higher-numbered chain rail tightens it. You want it to have some play, but no more than 1/2" to 3/4" max.
I verified the lack of chain tension and chain rail #1 by removing the black, oval BMW cover on the swingarm. You can see the dots in the illustration. My chain moved well over an inch so I ordered rail #2 from the local dealer. It arrives next Friday.,
15,000 miles is a good time to replace the chain rail. After that, probably every 15k miles through chain rails #3 and #4, until a new chain is due around 60k. Then you go back to chain rail #1 (save those chain rails! You can use them again. My new one cost $34 from the dealer.).
Super easy to replace the chain rail. After the oil is drained and the swingarm cover is off, two bolts remove the chain guard. Two bolts remove the chain rail. It slides out and you slide in a new one. That's it. I'm eager to see if it makes any difference in how the bike moves.
Draining the oil is also super easy. Drain plug on the botton of the swingarm; fill plug on top. Torque is 14.75 ft. lbs. Quantity is 500 ml, or half a liter. Torx bolts on the guard or rail (can't remember) take a T-20 bit, which I didn't have, so I had to make a Home Depot run during the middle of the job.
My oil was black as coal, night and day from the light MOTUL Gear 300 75W90 I put back in. Since I'll be replacing the oil again in a week when I install chain rail #2, I didn't use the Permatex Gasket Maker I bought for this job, but I will next time. Found no leaks after a 10-minute test ride and paper towels left under the swingarm overnight came up clean.
Teeth on the sprocket look strong, so I'll be able to seal up the swingarm and think about a new chain and sprocket in 10,000 miles. BMW officially says 24,000 miles. This bike is a pleasure to work on, way smoother and more sensible than a Honda Silver Wing or Burgman 650.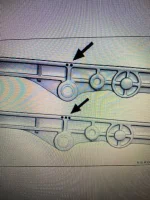 Last edited: