This is my third BMW C650 GT. It's a 2013 model that arrived safely at 20,000 miles this morning. Previously, I owned a white 2016 and a black 2017.
Also previously owned four Honda Silver Wing 600's and three Suzuki Burgman 650's, all since Christmas Eve 2016 when I bought my first maxi-scooter. The fact that I ended up staying with the BMW tells you which one I think is best (by far).
Most of the other bikes were low mileage. I'd search out great deals on scooters that sat in garages for a long time, buy them and update all the maintenance, then enjoy them for awhile and sell for a break-even price or modest profit. There are LOTS of riders out there who don't do their own maintenance and are happy to pay a little more for a shiny clean, fully updated bike.
My current GT came with 15,100 miles. It was a trade-in at a Ducati dealership that didn't know what to do with it, so they sold it to me for $3900. I added $500 for parts to update it. I installed a Mitsuboshi drive belt using a BMW variator holder, turned off the service alert with MotoScan software, updated the fluids with Motul oil and BMW filter, new BMW coolant and brake fluid, then added a #2 chain rail due at 15k miles, new Denso spark plugs and new air and CVT filters (two CVT's). I bought it with an aftermarket GPR muffler installed, but lucky for me, the dealer had the OEM muffler and I put that back on.
Only issue I had was a failing rear TPMS sensor. I bought a Chinese replacement for $20 vs. the BMW dealer's $300 estimate and paid a local bike shop $20 to open up the tire and screw in the new sensor. After doing maintenance on seven Silver Wings and Burgmans, I can say BMW is the easiest to work on (by far). The service manual, although it's a PITA because it only runs on DVD on a Windows PC and I'm an Apple guy, is far clearer and more comprehensive than the other manuals.
This has been a FANTASTIC ride. It just goes and goes and goes. I looked at a Kymco AK 550 last week, in part because there's a Kymco dealer 0.6 miles from my front door. It's a smart bike for the left brain (logic). It makes sense. Nimble, quick, fun, ABS and TPMS, 15" wheels, bluetooth dashboard screen, easy to download free service manual. But in the end, it didn't engage my right brain (emotion). I just felt ... meh, it's a Kymco. The BMW still excites me.
I'm eager to see how far this one goes, and if I learn tomorrow that it needs major repair, I would be happy to sell it and buy a 2016+ model (Gen 1.0 models up to 2015 are slower off the line). Happy Trails!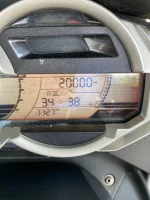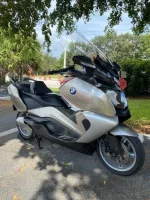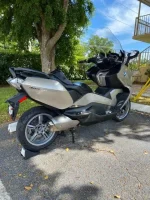 Last edited: