Yes, "filters," plural. I learned this morning there are two CVT air filters in the GT.
BMW calls them front and rear.
Rear = the round filter on the inside of the black hood covering the metal belt case.
Front = a rectangular filter about three inches in front of the rear. It's like a skinny drawer hidden above the right side of the CVT case. Click down to release and slide it out. I'm glad I found it. There was a fair amount of garbage on it and a lot of black dust in it.
Both were original and had been through 15,000 miles and eight years of wear. I've seen worse (an old Silver Wing filter crumbled at the touch). BMW specifies replacement every 12,000 miles for the two CVT filters and air filter inside the upper right faring.
The old round filter was dry and brittle. It broke apart as I slipped it out of the case housing. I cleaned it a few weeks ago when I put a new drive belt and sliders in, so you don't see all the garbage that was on it.
The new round filter was solid and pliable enough to gently wedge into place. It's easiest to insert a new one from the inside of the black hood. When you replace the exhaust vent on the outside, there is an arrow on top that should point to a vertical line next to "GT" on top of the black hood (photo).
For the front filter, I used my handy tire inflator unit to generate compressed air. This worked well; a lot of dust flew out. I removed bigger pieces of debris with tweezers.
A little PITA in that you need to take ALLLLL the lower tupperware off the right side. But hey, it's worth the effort. Three new filters and the machine is sucking in nothing but fresh Florida air.
Part numbers:
Round CVT filter: BMW 11157729526, $21.50 (had to wait three weeks for this to arrive from Germany. Probably the most expensive piece of foam in history, but it's BMW foam, what did I expect? I'm sure there are good DYI substitutes.)
Top/front pull out CVT filter: BMW 24807729844, $19.50
Portable tire inflator for compressed air cleaning: priceless (actually, around $20. I went through two Slime brand units and they were disappointing. My current HyperTough from Walmart is durable and works well).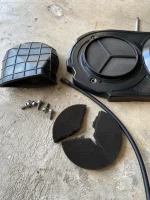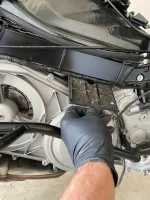 Last edited: