Want to know how many miles until you run out of gas? The BMW C 650 GT has a built-in feature that tells you.
It's not a direct, "78 miles of range" reading that works anytime like my Prius. But with a few calculations, you get the same result. I'm on my third GT and didn't realize this until now (I can be a bit slow on the draw sometimes, so apologies if I state the bleeding obvious -- but I'm sure some people don't know this).
Here's how it works ....
When the yellow gas pump icon lights up as a low fuel warning, a special odometer appears. It's not TRIP A or TRIP B, it's just TRIP. and it points to another gas pump icon. I noticed this before but figured I brushed the TRIP switch and cycled it back to the main odometer.
This special TRIP odometer measures miles traveled since the low fuel warning appeared. Last time this happened, I was right next to a gas station, so I filled up and noted exactly how much fuel the bike took. I subtracted that amount from the bike's total capacity, 4.2 gallons, to determine that I had around 3 quarts of gas left when the low fuel warning appears.
At 45 mpg, that's around 11 miles per quart, or 33 miles to go before I'm walking. So if that special odometer gets up to around 20 miles, I figure I'm starting to live dangerously and it's time to find gas.
That's the good news. The bad news is the MPG reading on my dash seems forever stuck on 48.9 mpg. Plus, my tire pressure monitors regularly show 3 pounds less-than-actual for the front tire and 6 pounds less-than-actual for the rear. At least they're consistent. Mostly I like turning on the bike and knowing I didn't lose air pressure since the last time I rode.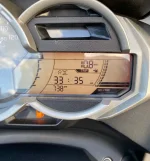 Last edited: